DragonForce Core
Features
Group Management
Delegate group members to manage an operation
Tactical Whiteboarding
Contribute to the common operating picture using customizable annotation tools
Secure Messaging
Send messages to entire groups or individual users
Personnel Tracking
Displays the real-time location of the members inside a group
Digital Forms and Reports
Fully customizable forms allow users to capture the media and text fields they need
File Sharing
Create or upload and contribute items like floor-plans and documents to the group
DragonForce
DragonForce is a mobile team collaboration platform that delivers mission-critical command and control and incident management capabilities.

The DragonForce collaborative experience is delivered via the DragonForce Mobile and DragonForce Web clients.

Collaborative White-boarding

Any map, image or floor-plan that is imported into DragonForce is automatically converted into a shared whiteboard.
 
Team members can draw lines and shapes as well as place and move customizable icons giving you a shared digital chessboard experience to accelerate and enhance both mission planning and operations.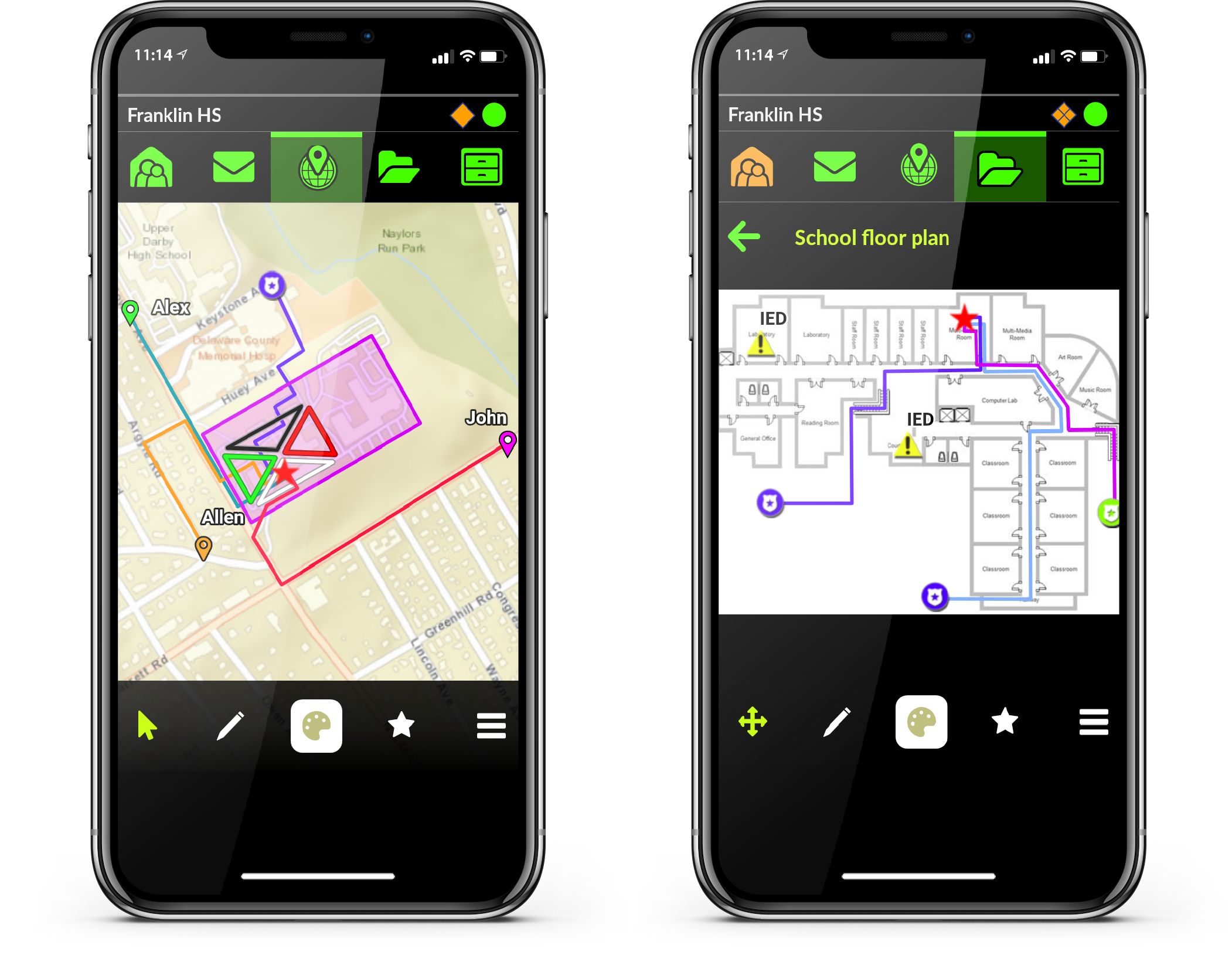 Real-time Personnel Tracking
DragonForce users can see the real-time location of members within their group. Users can be tracked automatically via GPS and device location and manually by pinning your location on the map.

Manual location is useful when the device does not have GPS or cannot acquire a precise GPS fix.



Secure Messaging
DragonForce gives you a secure text messaging service that allows users to broadcast messages to entire groups or engage in private point-to-point conversations.
 
As with all DragonForce data, your messages are encrypted (256-bit AES) in transit and at rest.

Situation Reports
DragonForce replaces your paper documents with digital situation reports (SitReps) and forms. Sitreps are collaborative forms where multiple users can edit the document simultaneously.

Thus ensuring that the latest updates are shared instantaneously with key decision makers and command staff.

Multiple Group Support
DragonForce team collaboration takes place in Groups. You may form as many Groups as you need and populate them with personnel and documents of your choice.

Only members of a group can see the shared texts, documents. And locations for that group.

You may also designate which users have permission to create and manage groups.


File Sharing & Storage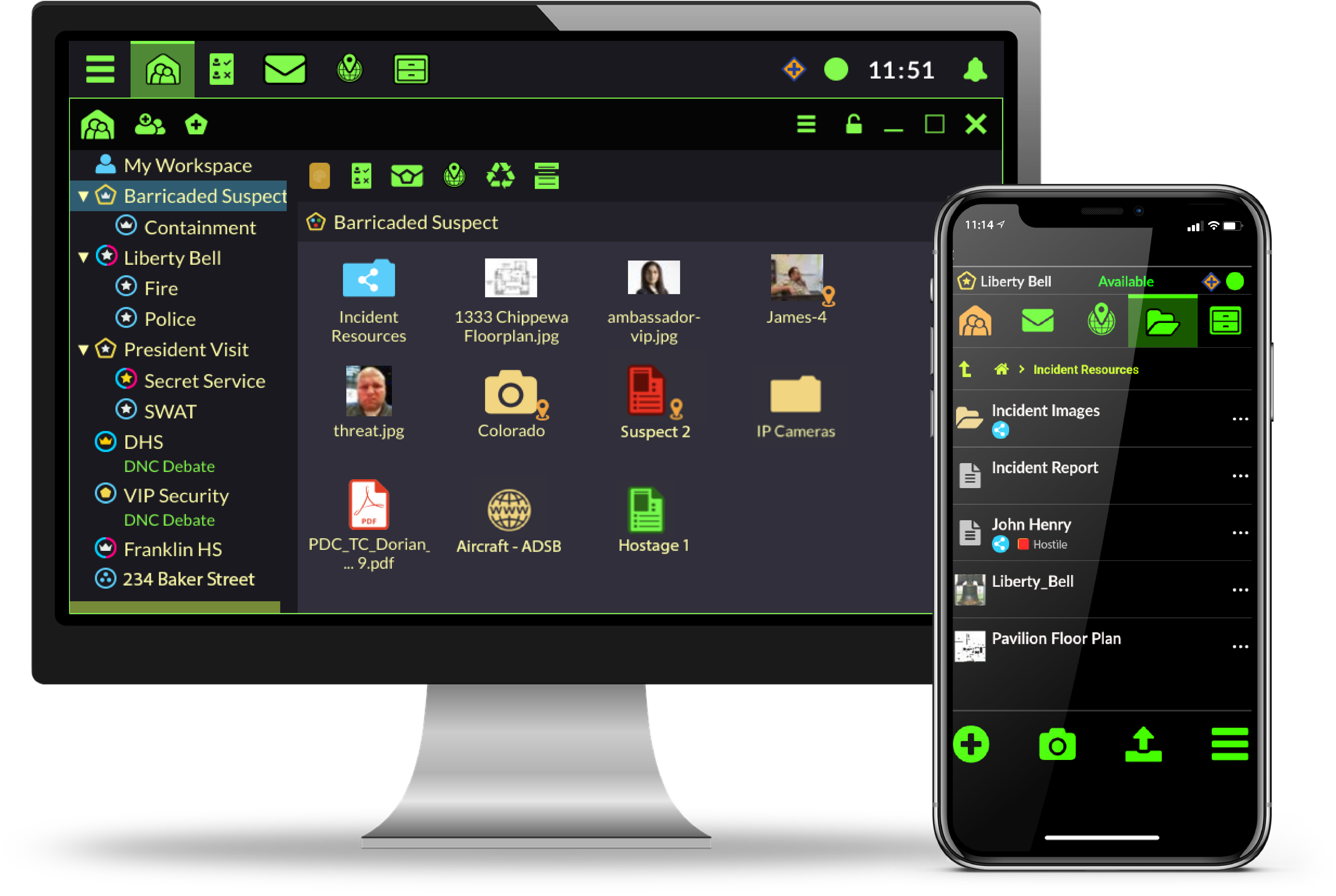 DragonForce gives you a complete file sharing and storage capability. Simply drag-and-drop a document from your desktop or upload a file from your cloud storage provider into a DragonForce group and the document is immediately shared with everyone on the team.

DragonForce also gives you secure "cloud storage" space for commonly used documents like floor-plans of area schools and malls, emergency procedure guides, mugshots of persons of interest.

Multimedia
The DragonForce multimedia feature allows users to upload videos into the group workspace and capture photos, which can then be used as a collaborative whiteboard.
DragonForce Web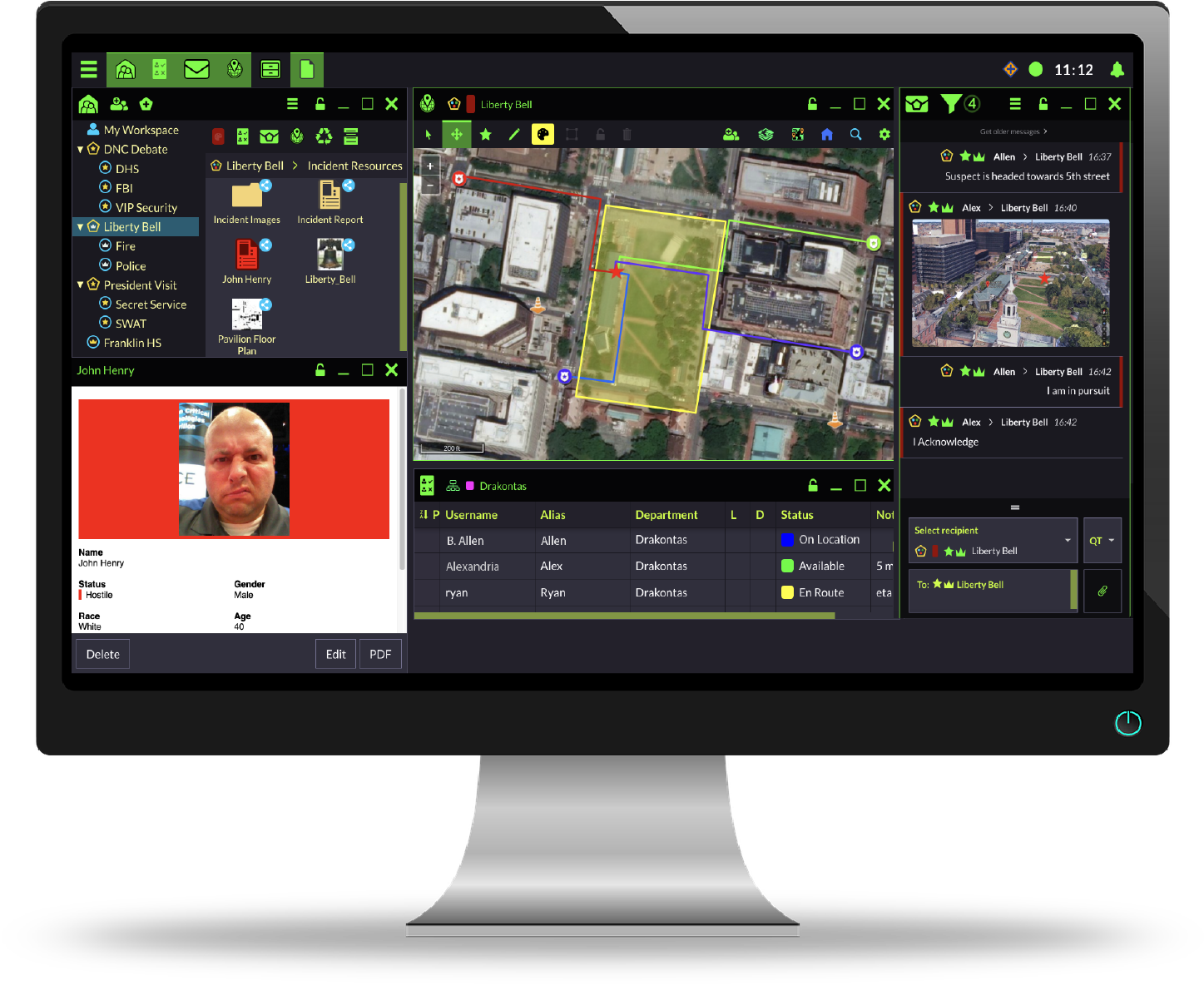 DragonForce Web gives you access to all the tools of DragonForce mobile plus access to the DragonForce administrative and reporting tools.

The layout and toolset of the DragonForce Web. Workspace is fully customizable, allowing you to manage multiple groups simultaneously.

DragonForce Web provides multiple monitor support giving your maximum flexibility to build the common operating picture you need. For complex operations.

Push-To-Talk (PTT)
DragonForce integrates Zello's push-to-talk features to dynamically create voice channels that are automatically associated with DragonForce team collaboration groups.

Zello's PTT voice channels augment DragonForce's core collaboration tools – real-time personnel tracking, secure messaging, tactical whiteboarding, and shared situational reporting to offer a complete collaboration platform.

The DragonForce Overview
One Tool - Many Missions
DRAGONFORCE
DISASTER RESPONSE
Team Collaboration Tools
REQUEST DEMO
TACTICAL OPERATIONS
Share Mission Critical Information
REQUEST DEMO
DRAGONFORCE
DRAGONFORCE
FIRST RESPONDERS
Command, Control, Collaborate
REQUEST DEMO
DRAGONFORCE
MULTI-AGENCY
Shared Situational Awareness
REQUEST DEMO
RESPONSE
DRAGONFORCE
REQUEST DEMO
LAW ENFORCEMENT
Managing your Day-to-Day Operations
DRAGONFORCE
CRISIS MANAGEMENT
An Interoperable Platform to Communicate and Coordinate Responses
REQUEST DEMO