DRAKONTAS
The DragonForce Team Collaborative Experience
Since its inception, Drakontas attributes collaboration as the key to their success. The software tools Drakontas have designed and the research programs they manage are designed to be responsive to customer needs and changing requirements. Seeing the applications of their technology in the public safety market, Drakontas hopes to help first responders communicate more effectively. Our company Drakontas was formed in 2004 as a technology spin-out from Drexel University. Our name is a reference to our Drexel heritage – Drakontas is the Greek word for Dragon, and the Drexel mascot is a Dragon.
STAND-OUT FEATURES
At Drakontas, we have a very unique approach to making sure we understand our customers' operational use cases and requirements. Every Drakontas employee who works on DragonForce is required to participate in multiple embedded exercises with our customers – no exceptions. When a software engineer spends hours out in the freezing cold, pouring rain or sweltering heat side-by-side with a SWAT team member, he gains unique insight as to how an app should look, function and feel in the hands of a public safety professional and provide "real world" utility.  "Living with the customer" and learning from them up close and personal gives us domain knowledge that yields a better product. We don't know of any company more committed to this process than Drakontas.
Inspiration
The early work done by the Drakontas founders was in support of our soldiers serving in Afghanistan and Iraq. We also saw applications for our technology in the public safety space here at home and formed Drakontas to equip these first responders with the best communications and collaboration technology. Our team's mission evolved from those initial experiences, and our goal is to improve the operational effectiveness of public safety professionals by delivering software to help manage resources, business processes and emergency response capabilities.
Reasons You Need DRAGONFORCE
First, public safety professionals are constantly asked to do more with less, making an already difficult job nearly impossible. To be safe and effective they need to work as a team with ready access to one another and mission-critical information. Our collaborative software provides affordable communications tools that empower them to do their jobs more quickly, safely and effectively. Second, inexpensive smartphones and data plans are putting communication and collaboration capabilities, which were until recently accessible to only specialty teams and military units, into the hands of anyone. The after-action reports from recent terrorist attacks and similar events show that the offenders are making use of these technologies themselves. Police need access to public safety grade versions of these technologies to stay ahead of their competition.
HIGHLY SCALABLE
Capable of supporting tens of thousands of users
INTEROPERABLE
Compatible with your other products or systems
EASY TO USE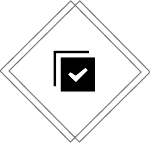 Requires little to no training